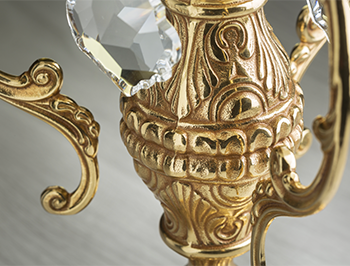 30 Mar

Chandelier company Nervilamp: the Italian excellence arrives all over the world
Nervilamp, the world-renowned Italian chandelier company
Lombardy is a land rich in entrepreneurial excellence of international standing, companies known worldwide for the quality of their services and the originality of their products. However, if we had to choose a field in which this area particularly stands out, design would certainly be the first thing most people would think of. After all, it is in Milan that Italian fashion was born!
However, it is not only the big cities that are the protagonists of this important industry; scattered throughout the region there are provincial realities that, thanks to their passion and dedication to their work, have managed to turn small towns into world landmarks for a certain sector. 
A shining example of this is Nervilamp, the chandelier company based in Nerviano – a town just a few kilometres from Milan – whose unique ideas have revolutionised the market for the production of lighting solutions. 
Why the Nervilamp chandelier company is so special
There are many chandelier companies that supply furniture shops with quality products, so why would someone – perhaps living in another region or even outside Italy – decide to turn to the Lombard company for lamps, appliques, or spotlights? The answer is very simple: there is no other chandelier company that offers collections similar to ours. 
The peculiarity of our products, in fact, is that they are inspired by Baroque art and bygone European courts. Just one visit to our showroom or a quick glance at the catalogue available on our website are enough to understand that there are no other chandelier companies like Nervilamp; with their wealth of details, precious materials. and delicate decorations, the lamps made by our company are absolutely unique. 
Nervilamp is a luxury chandelier company and is intended for all those people who appreciate beautiful things. It is not unusual to find our creations in the most elegant private homes, hotels, and restaurants on the planet. 
But an original idea is not enough to explain the enormous success Nervilamp has known over its 60 years of activity. The fact that we have been able to achieve such important results such as having official distributors on four continents is mainly due to the handcrafted production techniques we use to make our products. 
Unlike other chandelier companies, Nervilamp does not just offer the standardised lamps that are available everywhere. All our creations are custom-made according to customer requirements, so that we can guarantee the highest possible degree of satisfaction. 
In addition, we only use high-quality materials for production. Brass, crystal, ceramics, and blown glass – nowadays it is almost impossible to find another chandelier company that provides its skilled craftsmen with such valuable raw materials for the creation of the products in its catalogue. 
If you want to go shopping at Nervilamp, but you can't reach our shop in Nerviano or one of the official retailers, we invite you to consult the well-stocked e-commerce that you can find at this link; here you will find all the magic of Nervilamp's production!